Ashampoo Burning Studio 16
The insanely simple way to burn, copy and backup your files
The new Ashampoo Burning Studio 16 burns data, movies or music to any CD, DVD or Blu-ray disc. 16 years of experience helped create a software that offers maximum compatibility and user-friendliness. The extensive multimedia features help users turn even ambitious movie ideas with individual cuts, effects and subtitles into reality.
Ashampoo Burning Studio 16 Screenshots
Ashampoo Burning Studio 16 Key Features
Burn, design and archive with more speed, security and creativity

- The insanely simple way to cut, create and burn movies
- Digitize, burn and add covers to your music CDs
- Perfect data backups in just a few clicks
- Your memories in their most beautiful form as slideshows
- Improved compatibility - every burner every disc


So simple, so good

Everyone can cut movies, burn self-compiled music CDs or backup files to DVD. All you need is a program that gives results! With this goal in mind, we developed Ashampoo Burning Studio 16 for you. Discover features that turn you photos into movies in a few clicks, secure precious files with passwords and make your movies into true masterpieces.

Unmatched in user-friendliness

Even the best features are useless when they're hard to reach and counter-intuitive to use! That's why Burning Studio relies on well-formed menus, a logically structured user interface and self-explanatory texts. Not only does Ashampoo Burning Studio 16 launch faster than ever before but it is also more concise, clear and versatile - simply better!

Ready for your creativity

Burning Studio gives you everything you need to get creative. Cut your movies for added dynamics, add subtitles to provide hints and use animated menus for added professionalism. Turn your photos into slideshows and add music to relive your memories in style. Design and create individual covers for your music CDs and discover the new and fascinating mosaic feature.

Fully secure

Not only does Ashampoo Burning Studio 16 offer better reliability with burning but it also comes with enhanced data protection features. Password-encrypt your data DVDs, backup your files to disc, external hard disks and flash drives or download photos, songs and documents from your smartphone or tablet. And for safety fanatics: Ashampoo Burning Studio 16 now supports M-DISC, the latest standard for professional archiving.
Ashampoo Burning Studio 16 requirements
Operating System: Vista®, Windows® 7, Windows® 8 / 8.1, Windows® 10, On Windows Vista®, Windows®7 & Windows® 8 / 8.1, Windows® 10 administrator privileges are required.
Software: .NET Framework 4.0, DirectX 9.0C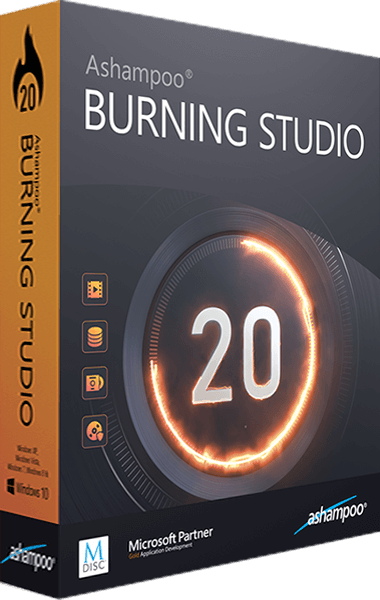 Ashampoo Burning Studio 20Just ReleasedThe new Ashampoo Burning Studio 20 is a powerful disc burning software that burns data, movies and music to CD, DVD and Blu-ray discs. Resulting files and discs are playable on almost any device thanks to built-in support for popular formats like MPEG-4, H.264, AAC, MP3 and WMA.
More products on Ashampoo Official Website
Copyright © 2019 www.find-your-software.com
All trademarks and brands are the property of their respective owners
facebook pinterest