Find Your Software Authorized partner If you're looking for software discounts, then you've come to the right place. Here you'll find a variety of discount software offers and coupon codes on products.
Acronis Disk Director 12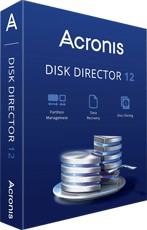 $49.99 Buy Now
Introducing the most professional, yet simplest toolkit for PC for disk management as well as protecting data.
This is the most user friendly and powerful tool for disk and volume management. With Acronis Disk Director 12, you can easily arrange your disks and configure the volume to get the optimal performance of your PC as well as all your data will be safe.
Acronis Disk Director 12: Works for
Disk Cloning

You can clone disk in order to replace the old one.

Partition Management

You can create, organize and customize the partitions or you can restructure the whole disk without any data loss.

Volume Recovery

You are always safe in case of boot failure as Acronis Disk Director 2012 enables you to recover the lost data quickly and easily.
Acronis Disk Director 12 is a collection of tools which are very useful for disk optimization and data protection. You are capable of storing different operating systems in one disk creating partitions and managing them properly. Acronis Disk Director 12 saves time which image backup does not offer and the lost data can easily be recovered. The optimization system offers faster PC experience.
Acronis Disk Director 12: What's new
UEFI

compatibility This software is compatible with both UEFI-based and bios-based hardware.
Windows 8 is great All the operating systems of Windows even Windows 8.1 is compatible with Acronis Disk Director 12.
Acronis Disk Director 12: Key features
Access You can easily access to the byte of the disk and edit as you need.
Boot You can boot from whether DVD/CD or USB drive without installing any operating system.
Recover Acronis Disk Director 12 helps you to recover your accidentally delete or damaged files.
Span You can extend your volumes in different physical disks. You can use this facility up to 32 disks.
Install This tool offers to make two volumes from a single volume and install another operating system in the second one.
Convert While you need changes, you can easily convert the basic disk into dynamic disk or vice versa in just a few minutes.
Format Acronis Disk Director 12 offers more intuitive user interface and easy operation. You can format your hard drive using NTFS, FAT 32, FAT 16, SWAP, Linux, Reiser3, Ext3, Exts.
Manipulate Acronis Disk Director 12 helps to manage data, in case of converting, resizing, splitting data or merging volumes. You can create, copy and convert files according to your necessity.
Partition With the help of Acronis Disk Director 12, mapping the drives and creating partitions are very easy. It is less time consuming. With less risk of errors, you can level, format as well as create partition in only a few seconds.
Clone While you intend to replace your hard disk drive, you can easily clone the old one using Acronis Disk Director 12. You need not to waste too much time for installing the operating systems since this tool also helps you to make a copy of operating system.
Acronis Disk Director 12: Additional features
Format partitions
Explore data of the disk before creating partitions.
Create custom setting for showing or hiding the partitions.
Optimize the disk space automatically for faster performance.
Have a look at the changes before writing them into the disk.
Browse all the information of the file system, partitions and disks.
Acronis Disk Director 12: Requirements
Supported operating systems
Windows® 8.1 (all editions)
Windows® 8 (all editions)
Windows® 7 (all editions)
Windows Vista® (all editions)
Windows® XP (all editions)
Recommended hardware requirements
Computer processor: 1Ghz 32-bit (x86) or 64-bit (x64) processor
System memory: 512MB or more
Screen resolution: 1024x768 or higher
CD / DVD recording drive, or a flash drive for bootable media creation
Minimum hardware requirements
Boot firmware: Bios-based, UEFI-based
Computer processor: modern processor, 800Mhz or faster
System memory: 256MB
Screen resolution: 800x600 pixels
Installation disk space: 150MB
Other: Mouse
Supported file systems
FAT16
FAT32
NTFS
Ext2
Ext3
ReiserFS3
Linux SWAP
Looking for complete data protection?
Acronis True Image 2015 for PC offers full image backup for your entire system and 5 GB free cloud storage at every check out. A tool set if offered with the Acronis Disk Director to ensure disk management and complete protection of the data to ensure faster PC experience.