Avira Antivirus Pro 2020
Experience the combined force of smart next-gen protection
New anti-ransomware stops even unknown mutations before they attack. Lets you bank, shop, pay & email with complete confidence. Repairs files & is lighter on your system than any other antivirus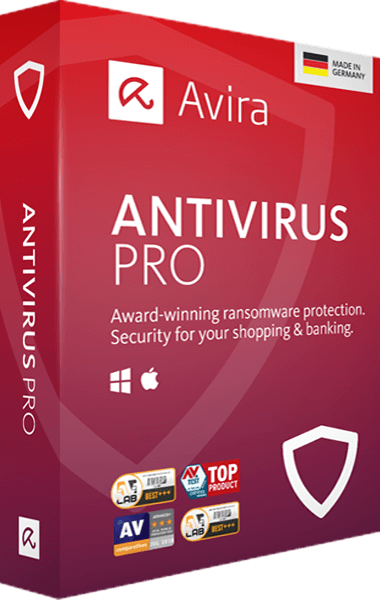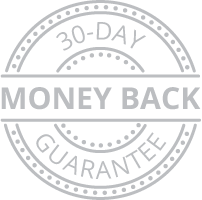 Limited Time Offer$44.99$24.6845% savingsBuy Now

Avira Antivirus won AV-Test's Top Product award
Take a no-compromise approach, like we did: Next-generation malware protection with a real-world detection score of 99.6%, performance that won't slow your system down, plus stunning simplicity and ease of use. It also repairs damaged files! That's Avira Antivirus Pro, declared a winner by multiple independent testers.
Visit any page, download any file, stream any film.
Web protection

Over 25 million infected sites blocked / month

Anti-phishing

Over 8 million phishing attacks blocked / month

Anti-ransomware

Over 1.4 million ransomware attacks blocked / month
More intuitive and feature-rich than ever
Flexibility

Our intuitive interface gives you both control over your security and the freedom to automate all your tasks.

Simplicity

Install with two clicks, scan with a click, or set and forget it—it's your choice
Pay and bank online without fear
Buy and bank online, wherever you are. Next-level ID-theft protection means there won't be any surprises on your bank statements.
Prevents keyloggers from stealing your passwords
Immunizes you against banking trojans, infected websites, and fake shopping carts
Blocks even the most sophisticated phishing attacks on your credit cards, bank details, and passwords
Real-time protection & repair
Keeping your data safe is what we do: Ransomware can't hijack them, viruses can't corrupt them, snoops can't access them.
Blocks infected sites
Secures you while streaming music and films online
Protects in real time against all existing and emerging malware
Cleans files and applications compromised by malware our repair capabilities can help.
Safely download
Whether it's an email attachment or music that you're streaming, if it lands on your device, you can be sure it's safe.
Scans files kept in cloud storage services such as Flickr
Scans downloaded music files, photos, and torrents for all known and emerging threats
Unique service: Priority cloud scanning means your files are scanned sooner and faster
Blocks potentially unwanted applications (PUA) or "bloatware" from installing adware and unwanted toolbars
Protect your emails too
Whether it's sent via email or USB stick, open it, click on it, download it... you'll be fine.
Scans all email attachments
Scans removable devices, from memory sticks to hard drives
Protects you from all email-borne threats such as spam or phishing links
Is compatible with all mail clients such as Outlook and web-based services such as Google.
Next-Gen AI Technology
Your device is connected to our worldwide, cloud-based threat detection system. As soon as a threat is detected, our "swarm intelligence" immunizes millions of customers within minutes against the latest, never-seen-before threat.
Avira Antivirus Pro 2020 Key Features
Antivirus scanner

Award-winning protection from malware (viruses, ransomware, Banker Trojans, etc.).

Email protection

Scans email attachments for malware and infected links.

Nightvision

Our automated, intelligent learning system protects you against new and evolving threats.

Device scanner

Scans removable devices for malware.

PUA shield

Identifies potentially unwanted applications hidden within legitimate software.

No ads

Runs silently in the background.

Web protection

Proactively blocks malicious and phishing URLs from loading.

Customer support

Free support via phone and email.

Firewall manager

Optimizes your firewall settings with 1 click

Browser tracking blocker*

Quietly prevents companies from monitoring what you do online.

Adblocker*

Blocks annoying banners on websites.
* Included with Avira Browser Safety — a browser extension for Chrome, Firefox and Opera.