Paragon Backup & Recovery 14 Home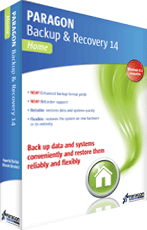 Strong Backup. Maximum Recovery.
This software complex meets all your expectations from simple information repairing to rather complicated backup procedures. Backup & Recovery 14 Home is a fast tool to backup any information you need – like files and catalogues, operating system and even the whole hard drive – to any place you prefer. With this software your information is always protected and can be restored in case it's spoiled or lost.
Paragon Backup & Recovery 14 Home characteristics:
Repairing Environment based on WinRE
Load corrector
Selective recovery
Intelligent copying Wizard
Gradual disk images creation
Duplicating and Recovering to

FTP

/sFTP or from them
Backup of entire hard drive or its parts
OS transferring to another hardware platform
Better file excluding while copying HDD
Added USB 3.0 support
Give your PC a new life even if it's broken
The best solution for effective recovery
Even if your computer is damaged, it has all chances for booting and recovering due to four strong recovery tools.
Saving of any Windows OS together with applications and repairing them without reinstallation.
Ability of fast recovering and booting the operating system on almost any hardware.
Easy extraction of files or folders if they're incidentally removed.
Before a flight get ready for landing
Prompt and optional backup tools
Backing up any portions of information – single files, folders, or entire HDD.
Due to copying Wizard you won't miss any significant phase of setup.
System and data protection during the work.
Any of newest copying tools – incrementing of files or segments; segment differentials; files supplementing; synthetic and cyclic copying.
Abilities for automatic copying, wizards for planning the procedures.
Select any storage for your information – external HDD, network resources, Blu-ray disks etc.
Our product is absolutely safe
Efficient technologies for data protection
Adaptive Restore 3.0 for simple system repairing on other storage.

WinPE

repairing environment ideally fits to your equipment.
Supports

GPT

partition technology.
Automatic segments leveling during the recovery on the new HDD.
Paragon Backup & Recovery 14 Home offers many features including:
Recovery Features:
WinPE

Recovery Environment* Up-to-date version of Windows Pre-installation Environment (WinPE 4.0) provides a wider support of hardware configurations and has the ability to add third-party drivers on the fly if your hardware is not supported by default.
Boot Corrector Powerful utility that recovers the operating system's startup ability. Available in Linux, DOS and WinPE* environments.
Selective Restore Extract individual files and folders from an archive without restoring an entire image. Use the Restore Wizard and simply check the files that you'd like to restore.
Backup Features:
Smart Backup Wizard Quickly backup these files and folders: My Documents, My Media Files, My Email Folders. Easily secure valuable data without additional configurations. You can leverage sector backups for the same purpose by creating archives of whole partitions (with all redundant data).
Incremental disk imaging Unlike differentials, increments may not only contain data changed since the time of creating a full archive, but one of its increments as well, thus allowing to save more time and the backup storage. With this type of disk imaging method our company has introduced an innovative technology that boosts efficiency of backup to the network storage up to 200%.
Backup and Restore to or from

FTP

/sFTP Offload backup images to offsite storage for an even higher level of protection if disaster strikes. Get your OS and data back on track even if other backup storages and media are unavailable. Using sFTP, the data transfer to the external server will be protected and encrypted.
Hot Processing Options Live backup is a key feature for any backup software. The product has a highly flexible, improved configuration for two different methods of hot processing: Paragon HotBackup and Microsoft Volume Shadow Copy Service (VSS).
Migration Features:
Copy partition or HDD Create an exact clone of a separate partition or an entire hard disk.
Migrate OS to dissimilar hardware Migrate existing systems and make them bootable in a new hardware environment.
Improved file exclude for Copy HDD Easily exclude selected files and folders when copying a partition or a complete hard drive to a new device. This is especially helpful when you migrate to an SSD that provides less space than your former hard drive.
Latest Software and Hardware Support
Support for Windows XP / Vista / 7 / 8 Accomplish any operation under Windows XP / Vista / 7 / 8 (32 and 64 bit)
Support for the latest HDD standards Enjoy support for AFD (Advanced Format Drive), 2TB+ and non-512B sector size drives.
Improved Support of

GPT

disks and

MBR

> GPT conversion Backup and restore GPT disks and single volumes without any restrictions. Easily convert your MBR formatted hard drive to GPT without data loss.
*WinPE boot media can be created with the help of Paragon Boot Media Builder.
Paragon Backup & Recovery 14 Home requirements
CPU: Intel Pentium or compatible, 300 MHz or higher processor
RAM: At least 128 MB (256 MB or greater recommended)
Disk space: 250 MB*
Internet Explorer 5.0 or higher
* During the installation additional free space (up to 1GB) will be required.
Paragon Backup & Recovery 16Just ReleasedParagon Backup & Recovery 16. Paragon Backup & Recovery is a powerful solution for reliable backup and ultimate recovery. Whether simply saving data, automating backup processes, or creating complex backup routines, this package of useful tools covers all your needs.
More products on Paragon Official Website
Copyright © 2019 www.find-your-software.com
All trademarks and brands are the property of their respective owners
facebook pinterest