Roxio Toast 18 Titanium
Complete digital media suite and DVD burner for Mac
Roxio Toast 18 Titanium makes it easier than ever to burn, copy, capture, edit, convert, and share digital media. Toast 18 Titanium is a valuable collection of digital media apps for Mac, and includes Blu-ray Disc authoring, photo editing tools, and more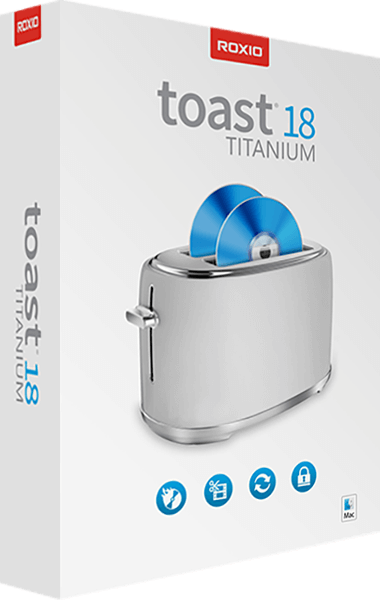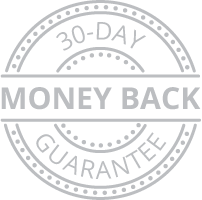 $79.99$63.9920% savingsEVASOIXOR02Get couponUse coupon code and get discount
Related Products
All prices listed on our website are in US Dollars
Roxio Toast 18 Titanium Optimized for Catalina (macOS 10.15)
Roxio Toast 18 Titanium has been redesigned as a 64-bit application and is fully compatible with macOS Catalina. Version 18 supports macOS Catalina 10.15, Mojave 10.14, High Sierra 10.13, Sierra 10.12, El Capitan 10.11.
Roxio Toast 18 Titanium What's included
Roxio Toast

The preferred CD & DVD burner for Mac! Roxio Toast offers complete peace of mind, with industry-leading burning tools and file security, bundled in a digital media management suite that makes it simple to capture, copy, burn, and convert audio and video files to preferred formats.

Roxio Secure Burn

Safeguard your information with banking-level encryption and password-protection functionality that sets the standard for the industry. Encrypt and password protect your data on CD, DVD, and even USB.

Roxio MyDVD

Select from one of dozens of themed menu templates and burn your video to DVD or Blu-Ray* with customizable chapters and menus.

Roxio Akrilic

Turn your photos into artistic expressions with new Roxio Akrilic. Quickly stylize your images or transform your pictures into paintings and get creative with new smart art technology!

MultiCam Capture

Record your screen and webcam simultaneously. View the preview screens for all of your connected devices in one place—including your computer screen—and create engaging tutorials, unboxing videos, and more!
Burn, copy, and secure data with ease
Copy and burn discs

Roxio Toast makes it easy to copy or burn your music, videos, photos, and data files to CD, DVD, or ISO image discs with a simple drag and drop interface. With Roxio Toast, you can also easily copy and convert discs to digital files, and author DVDs with chapters and menus.

Create discs for Mac and PC

Create hybrid discs with the ability to include content unique to the Mac or PC, as well as the option to secure your files in Mac-only or Windows-only formats.

Secure and encrypt discs

With Roxio Secure Burn, banking-level encryption (AES 256-bit) and password protection delivers complete peace of mind from knowing that your data is secure on disc and USB.

Recover damaged discs

Don't risk losing vital data. Recover previously unreadable files from damaged discs and copy them onto a new disc along with a list of unrecoverable files so that you know at a glance what needs to be recreated.
Manage your media efficiently
Archive data

With AVCHD Archive, you can back-up an entire camera of HD videos to disc and automatically keep a preview version on your Mac for easy file browsing.

Convert media

Convert video or audio files to your preferred formats. Schedule video conversion projects to run when you're away from the computer to maximize your time.

Catalog files

Automatically catalog your discs as you burn with DiscCatalogMaker, then browse the files and folders, or search by partial or full file, or even folder name.

Roxio Akrilic

Easily emphasize the most interesting features in your photo and customize them to match other creative styles, using new Roxio Akrilic. Along with helpful features like automatic adjustment and object recognition, making beautiful, personal art is easier than ever. This program leverages artificial intelligence and speech recognition to make sophisticated transformations effortless.
Get creative with video
Capture

Export your video for playback on your favorite device, or to any popular digital file type. Easily upload online or burn to disc with chapters and menus.

Edit

Focus on the best parts of your videos and crop, trim, or remove unwanted segments with the simple editing tools in Toast Slice. Save your clip as a file, or send it to Toast MyDVD and add it to your DVD project.

Convert

Extract video clips from your home DVDs and convert disc to digital. Convert video and audio to your preferred format. Capture video and system audio from virtually anywhere with screen recording tools.

MultiCam

Record your screen and webcam simultaneously. Once you are done recording, select which angle to show as the videos play—even create a picture-in-picture effect. MultiCam Capture and Editing are the perfect combination to create engaging how-to tutorial videos, unboxing videos, and much more.

Author

Burn your videos to DVD and AVCHD complete with chapters and menus, using Toast MyDVD. Get polished results with 20+ themed templates, and easily make it your own with custom images and background music. Add menus and chapters to combine multiple movies onto one disc.

Export

Export your video for playback on your favorite device, or to any popular digital file type. Easily upload online or burn to disc with chapters and menus.
Roxio Toast 18 Titanium System Requirements
1 GB RAM recommended
Mac computer with an Intel processor
Requires Mac OS X 10.11 and above, 64-bit application
Internet connection required for installation, registration and updates
Approximately 1GB (5GB for Pro) of free space to install all components
DVD drive required for installation from disc - digital download available
About Roxio Toast 18 Titanium Coupon
How do I find Roxio Toast 18 Titanium coupon code?
You can find Roxio Toast 18 Titanium coupon code on our page,
just click on «Get Coupon» button.
How do I use Roxio Toast 18 Titanium coupon?
To use Roxio Toast 18 Titanium coupons, copy the coupon code on our page and paste it in the promo code field on the checkout page of your order.
The coupon can be used if the coupon is active.
How do I get discount on Roxio Toast 18 Titanium products?
You can get discount by using a coupon code, which you can find on our page. Right now you can save up to 20% off.
How long do Roxio Toast 18 Titanium offer last?
The time within each offer is active, is different. The coupons you pick up during the sales are mainly active for the sale period.
How many Roxio Toast 18 Titanium coupons can I use?
You can use only one coupon code for each order.