Ashampoo ActionCam
Improve, enhance, stabilize, denoise and crop with spectacular ease
Ashampoo ActionCam is action cam and drone video editing software to optimize sharpness and colors, stabilize shaky footage and fix lens distortions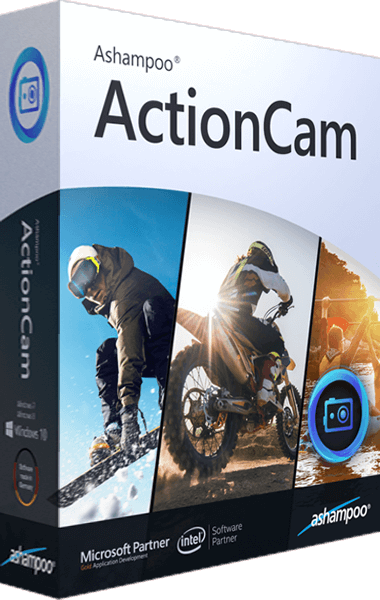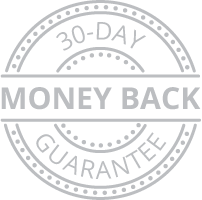 $49.99$19.9960% savings2BZ-4Y2-FW4Get couponUse coupon code and get discount
Related Products
All prices listed on our website are in US Dollars
From shaky to steady in just seconds
ActionCams are always on the scene even when things go wild or get slightly out of hand. The resulting videos are often shaky because the camera failed to stabilize them. That makes for interesting dynamics but can also make the viewing experience more stressful. Ashampoo ActionCam features next-gen video stabilization! Even handheld shots taken in full motion become more steady for a realistic, smooth viewing experience - at max resolution, naturally!
Put an end to lens distortions!
Wide-angle and fisheye lenses put viewers in the center of the action. Still, when watched on a computer or TV screen, many would rather switch back to "normal" vision. Ashampoo ActionCam fixes lens distortions like magic! The program includes a range of camera profiles, including the GoPro line, for distortion-free realistic visuals at the click of a button!
Ashampoo ActionCam Key Features
Addable text overlays
Perfect for drone videos
Video cropping and merging
Miniature effect with tilt-shift
Visual effects for fascinating results
Powerful contrast and color optimization
Ready-made presets for popular camera models
Time-saving batch-processing for multiple videos
Highly effective and dependable video stabilization
Auto-correction for lens distortion and fisheye effect
Clever slow-mo and time-lapse effects based on playback speeds
Auto-sharpness for a totally new visual experience
Powerful contrast and color optimization
Enhance video quality by optimizing colors and contrasts. In just a few clicks, your shots will look more vibrant, realistic and interesting. Use white balancing to make your videos appear warmer or colder and selective brightness, hue, shadow and light manipulation to add that extra individual touch. No matter where your videos come from, the multi-faceted optimization in Ashampoo ActionCam will help you create more stunning visuals. It's effective video editing at your fingertips!
Brilliant sharpness and lighting-fast processing
Fast-paced and drone-based shots are frequently lacking in sharpness. Ashampoo ActionCam features highly efficient sharpening to rid your footage of any perceived mist and haze. And built-in batch-processing helps you work even faster by processing multiple clips in one go!
The video cutting you need
Some programs feature humongous editors that take a lot of getting used to. ActionCam's video editor focuses on the tools you really need! Rotate and flip your videos by fixed or custom increments and use cropping to bring out the details in your shots. Export highlights individually or merge multiple clips into a single highlight reel!
Work with texts and effects
In many cases, comments and effects provide the final polish for your videos. Ashampoo ActionCam lets you add text and stunning effects like tilt-shift fuss-free. The latter employs selective blurring to create a miniature look that goes especially well with landscape footage. Unleash your creativity and a personal touch to wow your audience.
Become a speed master
Ashampoo ActionCam can alter playback speeds for your videos. Most action cams record at 60 fps, ample room for stunning slow-mo effects. Naturally, time-lapse is also on board, e.g. to speed up less important sections hassle-free and without the need for additional steps.
Perfect for camera drone fans!
But it doesn't stop with GoPro or other action cam videos. Drones offer fascinating views only pilots could experience a few years ago. Ashampoo ActionCam also edits drone footage with incredible ease and speed. Common issues like camera shakes, poor colors, contrast or sharpness are fixed in just a few clicks to help you conquer the skies (visually)!
Ashampoo ActionCam Requirements
Operating System

You need the 64-bit version for the following operating systems: Windows® 10, Windows® 8, Windows® 7

Software

Windows Media Player 10, .NET Framework 4.0

Processor

DVD quality editing / production - Dual-core processor with 2.4 GHz or better, HD quality editing / production - Intel Core i5 / i7 or similar quad-core processor.

RAM

2 GB or higher for DVD quality editing / production, 4 GB or higher for HD quality editing / production, 8 GB or more recommended.

Graphic card

DirectX 9. Pixelshader v2.0. Min. 128 MB RAM. Min. 1280 x 1024.

Other

An Internet connection is required to activate the program. The program license is verified repeatedly at regular intervals. For some services an Internet connection is required.
About Ashampoo ActionCam Coupon
How do I find Ashampoo ActionCam coupon code?
You can find Ashampoo ActionCam coupon code on our page,
just click on «Get Coupon» button.
How do I use Ashampoo ActionCam coupon?
To use Ashampoo ActionCam coupons, copy the coupon code on our page and paste it in the promo code field on the checkout page of your order.
The coupon can be used if the coupon is active.
How do I get discount on Ashampoo ActionCam products?
You can get discount by using a coupon code, which you can find on our page. Right now you can save up to 60% off.
How long do Ashampoo ActionCam offer last?
The time within each offer is active, is different. The coupons you pick up during the sales are mainly active for the sale period.
How many Ashampoo ActionCam coupons can I use?
You can use only one coupon code for each order.