Pinnacle Studio 25 Ultimate
Pro-level video editing software for Windows
Create professional level movies with Pinnacle Studio 25 Ultimate, advanced video editing software with video masking, color grading, multi-camera editing, and more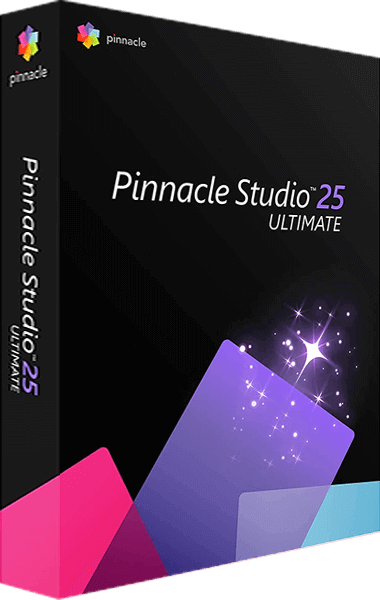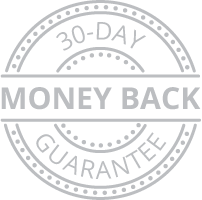 $129.95$110.4615% savingsevasnnip51Get couponUse coupon code and get discount
Related Products
All prices listed on our website are in US Dollars
Pinnacle Studio 25 Ultimate - What's New
Smart object tracking

Edit more efficiently and save a lot of time with new Smart Object Tracking, intelligent, shape-aware motion tracking for masks applied on common objects. Now you can easily apply masks to objects in your video–from pets and cars, to drones, and more. There is no need to re-create masks for each frame because smart technology automates the process by recognizing the original masked object and tracks it throughout the selected episode.

Blend modes

Improvise on the fly with Blend Modes and choose how one clip blends with another—from creating a superimposed effect, to blending masked areas, or creating light bleeds or other color and exposure effects. Each Blend Mode uses a different formula to combine the color and brightness values in a selected clip with the values in an underlying clip. ​Blend Modes boost your creativity and help to bring an artistic touch to your films.​

Audio features

Noise reduction using a custom noise profile. Pitch Scaling. Multi-channel Sound Mixing

8K Import

Import 8K videos and enjoy unrivaled quality content with significantly higher resolution, greater color, and incredible sound.

Keyframe groups

Copy and paste groups of keyframes across attributes to duplicate changes efficiently.

Video Masking

Convert Clip masks into Track masks and vice versa and nest projects as assets in panel masks.
Explore Group Painting Tools to convert vector images to raster files and group raster tools so they can be used successively in any order until the shape is complete—without creating a new shape each time.

Title Editor

Take letter-accurate control of your titles with the enhanced Title Editor, now including keyframe control for Font Size and Color.

Stability and Performance

UI improvements along with enhanced performance and stability enable you to fully focus on the creative side of the editing process and not get bogged down by the technical details.
Create with inspiration. Edit with Pinnacle.
Enjoy pro-level video editing that can transform your preliminary creative concepts into preeminent productions worthy of the big screen—all with the help of advanced tools, cinema-grade effects, and the unparalleled accuracy that Pinnacle Studio 25 Ultimate delivers.
Passion. Power. Precision.
Edit and improvise with confidence. Learn the ropes quickly. Transcend to pro-level proficiency.
Take your productions closer to pro

Enjoy advanced HD, 4K and 360 video editing across unlimited tracks. Elevate your productions to the next level with powerful pro-caliber tools, including Video Masking, 360° Video Editing, Motion Tracking, MultiCam Editing, Split Screen Video, and so much more!

Mesmerize your audience

Add cinematic flair to your videos with complete Color Grading functionality, premium effects from NewBlueFX, Seamless Transitions, custom titles, and more–you'll have everything you need to showcase the unique character of your productions.

Edit with unparalleled precision

Go beyond traditional keyframing and fine-tune every parameter of your edit—positioning, size, speed, overlays, transitions, effects, and more.
Adjust your workspace to your personal editing preferences: set custom tool shortcuts, group and edit clips simultaneously, and explore a streamlined workflow for your most intuitive editing experience.
Pinnacle Studio 25 Ultimate - Features
360 Video Editing
Video Masking
Color Grading
Smart Object Tracking
Screen Recording
Dynamic Split Screen Video
Alpha Channel
Stop Motion Animation
MultiCam Editing
Blend Modes
Video Stabilization
Keyframe Controls
Motion Tracking
Title Editing
Audio Ducking
DVD Authoring
Make your story cinematic.
Why limit your creative vision by grounding it in reality? You choose the story you want to tell—whether fantasy, documentary, or love story—and Pinnacle Studio will help deliver the incredible pro-level results you're seeking, all with its breadth of remarkable features and precise controls.
Let color in!
Use the whole palette of Color Grading controls.
Color Grading

Advanced controls like Tone Curve,  HSL Tuning, Color Wheel, and Selective Vectorscope make it easy to independently adjust colors, highlights, midtones, and shadows.

Color Correction

Adjust white balance, correct underexposed scenes, and apply instant corrections.

LUTs & Filters

Instantly apply a filter or cinematic LUT profile to create a specific film effect and alter the overall tone/mood of your scene.
Pure creativity.
Enjoy a whole host of incredible, powerful special effects.​
Stylize your film.

Use special effects to introduce atmosphere and character to your production—make it look like an old movie or an indie film, transform scenes from rain to shine, and much more.

Play with filters and surprise your audience.

Would you like sections of your movie to look like an old painting or pencil sketch? Pinnacle filters will make that transformation a reality in a few clicks.

Premium effects from NewBlueFX.

Transform your next production with an expansive collection of premium tools that introduce fun transitions, creative filters, unique titling options, and incredible animation effects.
Add depth to your story
Evolve your story, frame by frame. Enhance, combine, and alter footage with video masks.
Target special effects

Brighten faces, blur backgrounds, censor license plates, and more with the unique power of Mask Creator.

Clone objects

Clone characters and objects on-screen, create unique montages, and enjoy expanded storytelling possibilities.

Combine clips

Layer clips in a unique manner to create illusions and produce new impressive scenery.

Remove distractions

Enhance footage and prevent reshoots by hiding distracting objects from your clips.

Custom transitions

Create unique walk-by and wipe transitions to follow motion in your video and ensure you have seamless blending from one clip to the next.
Action!
Explore motion graphics and effects.
Censor moving objects with mosaic blur
Create fast or slow-motion effects with Time Remapping
Add graphics or text to moving objects with Motion Tracking
Add visual interest with Pan and Zoom and Motion Blur effects
Dimensions. Perspectives. Angles. It's not a linear world.
Check out MultiCam, Split Screen Video, Screen recording, and 360 Video Editor.
MultiCam

Capture and edit video across up to six cameras to show a scene from various perspectives and with a different level of detail.

Screen recording

Easily record your screen and seamlessly blend it with webcam footage and audio overlays to produce engaging tutorials, gaming videos, or to record webinars. Leverage this go-to tool for vlogging, channel content creation, or business video production.

Split Screen Video

Combine two or more actions filmed separately—on one screen. Use this popular video editing technique to create promo videos or comparison videos to show different gaming strategies or to better illustrate any of your stories.

360° Video Editor

Play with fun perspectives and 3D effects (Tiny Planet, Rabbit Hole) to bring entertaining moments to your films. Easily edit your 360° footage and create breathtaking panoramas!
Music can make a good video, great!
Get to know the advanced Audio Editor.
Fade audio in and out, or mute and even detach audio in just a few clicks
Record your own narration and voiceover with included recording tools
Access royalty-free music and sound effects to take videos to the next level
Layer and automatically balance audio for crisp narration with Audio Ducking
Use NEW audio features for custom noise profiles, pitch scaling, and mixing several sound tracks in 5.1 space
Always go for 'extra' options.
Find more in our best-in-class feature sets.
Video Stabilization

Eliminate shaky footage altogether! Whether it was captured while riding a bike or skiing the slopes, you can easily fix it with the Video Stabilization tool available inside Pinnacle Studio.

Stop Motion Animation

Nowadays, Stop Motion Animation is a mainstream filmmaking tool. Support your digital storytelling with this amazing functionality that enables you to animate people and objects inside your productions.

Lens Correction

Explore built-in Lens Correction tools to remove lens distortion (e.g., fisheye in wide angle) from your footage.

3D Title Editor

Make your video more cinematic with the enhanced Title Editor. Leverage stylish 3D typography presets and tell your story your way.

Green Screen

Create all kinds of incredible effects while "traveling" without actually going anywhere—just rely on Green Screen post-production for compositing two video streams together and making your preferred destination a reality.

Selective Color

Experiment with Selective Color to highlight a single hue and draw focus to an important facet of your scenery.
Play with formats. Easily.
Share easily across different platforms and devices.
Burn to disc and select from more than 100 customizable menu templates.
Convert videos into the most popular file formats.
Pinnacle Studio 25 Ultimate - What's included
Main Applications

Video editing software
Video capture and screen recorder
Slideshow maker
Audio editor
DVD authoring
Video converter

Creative Content

Hundreds of filters and effects
Library of animated overlays, graphics, creative fonts, and titles
Themed templates and video montages
Royalty-free music and sound effects

Documentation & Tutorials

User Guide PDF
Search Help Files
Built-in tutorials & learning videos
10-day FREE all-access pass to StudioBacklot for first time users, includes training and royalty-free content
About Pinnacle Studio 25 Ultimate Coupon
How do I find Pinnacle Studio 25 Ultimate coupon code?
You can find Pinnacle Studio 25 Ultimate coupon code on our page,
just click on «Get Coupon» button.
How do I use Pinnacle Studio 25 Ultimate coupon?
To use Pinnacle Studio 25 Ultimate coupons, copy the coupon code on our page and paste it in the promo code field on the checkout page of your order.
The coupon can be used if the coupon is active.
How do I get discount on Pinnacle Studio 25 Ultimate products?
You can get discount by using a coupon code, which you can find on our page. Right now you can save up to 15% off.
How long do Pinnacle Studio 25 Ultimate offer last?
The time within each offer is active, is different. The coupons you pick up during the sales are mainly active for the sale period.
How many Pinnacle Studio 25 Ultimate coupons can I use?
You can use only one coupon code for each order.