Photo Video Editor Bundle Ultimate
PaintShop Pro 2022 Ultimate and VideoStudio Ultimate 2021
The ultimate dynamic duo of photo editing power and movie-making fun. Edit photos. Design graphics. Make movies. Enjoy endless creativity with the winning combination of Corel PaintShop Pro 2022 Ultimate and VideoStudio Ultimate 2021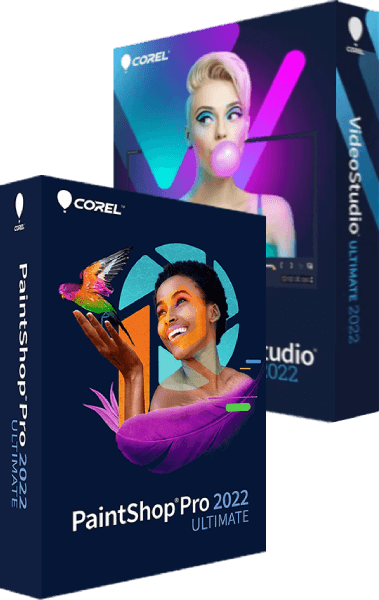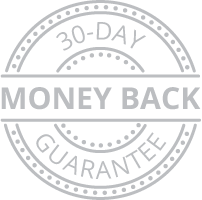 $199.99$169.9915% savingsEVASLEROC01Get couponUse coupon code and get discount
Related Products
All prices listed on our website are in US Dollars
What's New in Photo Video Bundle Ultimate?
PaintShop Pro 2022 Ultimate

Get all the color and brightness you've been missing!
Extend your creative capabilities with a bonus pack of premium software. All assembled with your specific needs in mind, the Ultimate items include Highlight Reel, MultiCam Capture Lite, Painter, Essentials 8, Sea-to-Sky Workspace, PhotoMirage Express, Corel AfterShot 3, and the Corel Creative Collection. A positive experience from start to finish, you can produce results that are as unique as your images.
Behind every show-stopping image is real intelligence
From one-click fixes to advanced photo editing, PaintShop Pro makes it all happen faster with new AI-powered features. Use new AI Background Replacement to automatically change the scene in an image, and the new AI Portrait Mode to enhance your portraits and add a softly blurred background and get creative with new Color Matching and Smooth Image capabilities in AI Style Transfer.
Real. Intelligent. Creative.
Work more efficiently and create amazing digital layouts and designs with the new Frame tool. Enjoy popular new file support and learn about your workspace options in the improved Welcome screen.

VideoStudio Ultimate 2021

Face tracking AR Stickers
Add instant fun and flair to your next project with new AR Stickers to enhance emotions and introduce playful moments to your videos. These face tracking stickers are the perfect way to emphasize reactions, and add personality to gaming videos, reaction videos, and tutorials!
Instant Project Templates
Save time and energy by re-creating popular video styles in minutes! Reproduce trending viral clips or easily edit eye-grabbing social media posts with new Instant Templates and clone yourself, turn portrait video into landscape, replicate marketing promo templates, and more. Unlock your creativity by combining ready-to-use templates and effects with your unique customizations and achieve incredible results!
More premium effects
Achieve remarkable creative transformations with optimized effect packs from NewBlueFX and more than 100 new VitaScene effects from proDAD. Also, make real-time corrections to shaky hand-held footage more quickly and efficiently than ever with the enhanced proDAD Mercalli video stabilization tool. Go beyond basic editing with this expanded collection of exclusive premium effects from industry leaders!
The ultimate photo and video editor
Create and edit stunning photos, entertaining videos and compelling design projects with PaintShop Pro 2022 Ultimate and VideoStudio Ultimate 2021.
Everything you need to create great-looking movies:
VideoStudio has expanded its remarkable combination of beginner-friendly tools, tutorials, and user interface with breakthrough creativity to make video editing truly fun!
Begin with the basics

Tap into essential tools to edit your videos with ease and only keep the best parts for an eye-catching and engaging outcome.

Drag and drop

Easily edit videos on the timeline by dragging and dropping footage, and adding creative graphics, overlays, animated titles and transitions.

Correct imperfections

Enhance color, apply white balance and lens corrections and remove flaws to convert your footage into a polished production.

Apply effects

Apply creative effects, filters, and animated overlays to make your video more interesting and entertaining!

Explore advanced tools

Show more perspectives by combining clips filmed from different angles with multi-camera capture and editing tools, enhance panoramic views with 360 editing, add animation and speed effects for a dynamic end result, and so much more.
Get creative with color
Color Correction

Correct or fine-tune the color in your projects with intuitive controls. Adjust hue, saturation, and white balance or apply instant auto-tune adjustments.

Color Grading

Only in Ultimate can you access complete color grading tools to set the mood of every scene. Easily shift colors, fine-tune your changes with a variety of video scopes and intuitive controls. Brighten landscapes, introduce accent colors, and augment ambience in every production.

LUT Profiles

LUT (look up table) profiles make it easy to turn day into night, recreate the color schemes of iconic movies, and instantly apply advanced cinematic color effects to your projects.
Instant slideshows and movies
Instant Project Templates

Save time with newly added Instant Project Templates. Select a template, then drag and drop a video to replace the generic placeholder that auto-populates to the timeline, and you're ready for export.

Highlight Reel

Explore AI-powered facial recognition with Highlight Reel, a smart movie and slideshow creator that automatically selects your best shots and clips and bypasses those with imperfections.

FastFlick

Create slideshows and movies in minutes! Just select a template and add your media for a quick, easy slideshow.
Animation tools at your fingertips
Stop Motion Animation

Plug in your camera or use your webcam to create a stop motion animation! Leverage automatic capture settings and on-screen guides that make it easier to create smooth, natural-looking motion.

Custom Motion Paths

Create and customize the movement of graphics, shapes,  titles, and overlays along a path with flexible controls. It's the perfect way to produce a fun effect, add emphasis, or move a character across the screen.

Painting Creator

Create your own animated drawings to add to your video clips using the Painting Creator tool. This feature records your brushstrokes as you paint, so you can add to your videos faces, map routes, and more!
Play with motion
Fast and Slow-Motion Videos

Play with speed using Time Remapping to easily create a slow motion video, add high-speed effects, freeze the frame, or reverse and replay scenes.

Pan and Zoom

Keep your audience focused on the action at hand, or emphasize critical moments by panning and zooming to ensure your subject stays clearly in frame.

Motion Tracking

Track an object in your video, and add moving text, graphics, or blur faces, logos, or license plates with accurate Motion Tracking tools.
Capture & edit video across multiple cameras
Screen Recording Software

Record your screen and webcam simultaneously and create engaging videos with MultiCam Capture Lite. Easily record video and audio in a single click and seamlessly edit them together with multi-camera editing.

Multi-camera editing

Easily combine, sync, and edit footage from multiple cameras*, then select the angle you want to show as your video plays. Add picture-in-picture effects to present your best perspectives simultaneously, and edit further on the timeline..
360° editor to show your uniqueness from all angles
360° Video editing

Go full circle with a complete suite of 360° degree video editing tools to trim, enhance, add titles or music, and edit your 360° video on the timeline.

Tiny Planet and Rabbit Hole effects

Give your audience a fun perspective and transform your 360° footage with Tiny Planet or Rabbit Hole effects (spherical panoramas) using easy controls.

Convert Formats

Convert single or dual fisheye footage to equirectangular or spherical panorama. Even control the viewing angle and convert to standard flat video for playback on TVs and standard video players.

Export 360° Videos

Export your 360° video to view on your VR headset, 360 player, or upload directly to YouTube to easily share with your audience!
About Photo Video Editor Bundle Ultimate Coupon
How do I find Photo Video Editor Bundle Ultimate coupon code?
You can find Photo Video Editor Bundle Ultimate coupon code on our page,
just click on «Get Coupon» button.
How do I use Photo Video Editor Bundle Ultimate coupon?
To use Photo Video Editor Bundle Ultimate coupons, copy the coupon code on our page and paste it in the promo code field on the checkout page of your order.
The coupon can be used if the coupon is active.
How do I get discount on Photo Video Editor Bundle Ultimate products?
You can get discount by using a coupon code, which you can find on our page. Right now you can save up to 15% off.
How long do Photo Video Editor Bundle Ultimate offer last?
The time within each offer is active, is different. The coupons you pick up during the sales are mainly active for the sale period.
How many Photo Video Editor Bundle Ultimate coupons can I use?
You can use only one coupon code for each order.