Photo Video Editor Bundle Ultimate
PaintShop Pro 2022 Ultimate and VideoStudio Ultimate 2022
The ultimate dynamic duo of photo editing power and movie-making fun. Edit photos. Design graphics. Make movies. Enjoy endless creativity with the winning combination of Corel PaintShop Pro 2022 Ultimate and VideoStudio Ultimate 2022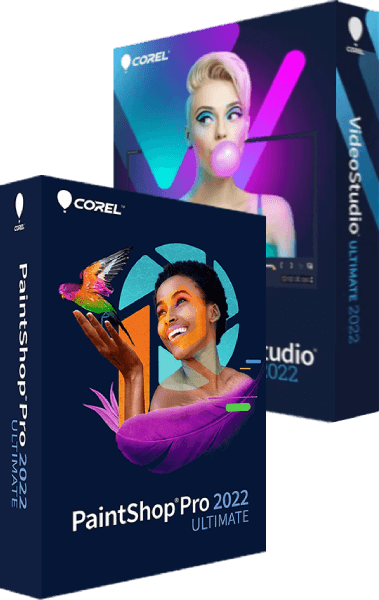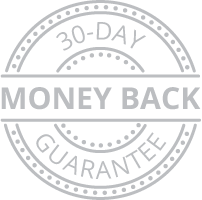 $199.99$179.9910% savingsEVASLEROC01Get couponUse coupon code and get discount
Related Products
All prices listed on our website are in US Dollars
The ultimate photo and video editor
Create and edit stunning photos, entertaining videos and compelling design projects with PaintShop Pro 2022 Ultimate and VideoStudio Ultimate 2022.
What's Included
Main Applications

PaintShop Pro Ultimate Content

Library of video tutorials in the Discovery Center
Online User Guide
Online Help

Includes bonus software:
Sea-to-Sky Workspace - New workspace to edit underwater and drone photography
Painter Essentials 7 - Photo-painting
PhotoMirage Express - Photo animation
Corel AfterShot 3 - RAW photo editing

VideoStudio Ultimate Content

Libraries of templates, titles, font packs and music tracks
Library of video tutorials
Online User Guide
Online Help

Includes bonus software:
Corel FastFlick video slideshow maker
Corel MyDVD disc authoring
Corel MultiCam Capture Lite - video capture and screen recorder

Includes bonus software:

Highlight Reel - smart movie creator
Painter Essentials 8 - Photo-painting
Make memories last with photo and video editing software
Together, they deliver a superior experience for users of all skill levels.
Create photo and design projects with layers, text, gradients and more in PaintShop Pro Ultimate
Use VideoStudio Ultimate to animate your images or edit video footage with customizable effects, overlays, transitions, titles and sound.
What's New in Photo Video Bundle Ultimate?
PaintShop Pro 2022 Ultimate
Get all the color and brightness you've been missing!

Extend your creative capabilities with a bonus pack of premium software. All assembled with your specific needs in mind, the Ultimate items include Highlight Reel, MultiCam Capture Lite, Painter Essentials 8, Sea-to-Sky Workspace, PhotoMirage Express, Corel AfterShot 3, and the Corel Creative Collection. A positive experience from start to finish, you can produce results that are as unique as your images.

Behind every show-stopping image is real intelligence

From one-click fixes to advanced photo editing, PaintShop Pro makes it all happen faster with new AI-powered features. Use new AI Background Replacement to automatically change the scene in an image, and the new AI Portrait Mode to enhance your portraits and add a softly blurred background and get creative with new Color Matching and Smooth Image capabilities in AI Style Transfer.

Real. Intelligent. Creative.

Work more efficiently and create amazing digital layouts and designs with the new Frame tool. Enjoy popular new file support and learn about your workspace options in the improved Welcome screen.
VideoStudio Ultimate 2022
Face Effects

Make everyone in your video look their very best with new Face Effects! Easily brighten or smooth skin with simple controls, adjust face width and even eye size to fine-tune facial features. Play with these super popular editing tools and adjust the levels manually depending on how much impact you're looking to create. Easily polish lifestyle videos, create glam Instagram and TikTok clips, or even goofy clips to share with friends!

Speech to Text converter

Save time creating subtitles by easy converting speech in your video to text with a new tool designed for easy caption creation. With new VideoStudio, even edit captured subtitles, export them, then import them into Youtube, TikTok or another platform. Use auto subtitling to keep your viewers engaged when speech in your video includes specific terminology, product names, or when the original narration is not perfect in quality!

GIF Creator

Explore GIF Creator to capture a section of your video and convert it to a short, looping clip in GIF format to express emotions and easily share highlights, over-the-top moments, and even cringe-worthy content— across all online platforms. GIFs are the best way to feature your most unique frames in a flash!

Animated AR Stickers

Add instant fun and flair to your next project with new animated AR Stickers! These face-tracking stickers are a great way to achieve anything from masking faces to emphasizing emotions and creating playful moments. They even can be applied to multiple faces and later edited for position and size. Use AR Stickers to accent reactions and add personality to gaming videos, reaction videos, online challenges, and other projects.

Face Indexing

Save time and streamline the editing process with newly added Face Indexing that analyzes video using facial recognition to automatically identify and extract footage for each person in your video. With this Ultimate-only feature, there is no need to manually search through hours of video content to select the scenes with specific people—Face Indexing will do that for you, quickly and easily!
Real. Intelligent. Creative.
Get exactly the results you want with PaintShop Pro's innovative tools and features.
Powerful photography tools and features

Depend on a versatile range of professional image editing tools to make every shot, the best shot.

Essential tools

Easily crop areas of your photo to alter the focus using composition guides, Golden Ratio and Rule of Thirds. Resize with ease using one of several presets, or resize by pixels, percentage or print size. Restore and repair old photos with the Scratch Remover and Fade Correction tools to enhance contrast and color to faded photos.

Adjustment tools

Alter your photos using a wide variety of powerful adjustment tools, including Brightness and Contrast, Fill Light and Clarity, Fade Correction, White Balance, Hue and Saturation, Noise Removal, Vibrancy, Sharpening, color correction, and tonal levels and curves.

Selection and Correction tools

Isolate the area you want to select with a variety of Selection tools and enhance your selection with the Refine Brush. Automatically correct distortions, vignetting and chromatic aberrations in your photos with Lens Correction tools and use the Straighten tool to fix a crooked horizon, or the Perspective Correction tool to make a photo appear as though it was taken from a different angle.

RAW, HDR, and 360° camera support

Manage and save metadata in your RAW files with PaintShop Pro's RAW Lab and correct problem areas, such as recovering blown highlights or adjusting shadows. Combine several photos of the same scene with different exposures to create one stunning HDR photo. Edit photographs taken with a 360° degree camera by straightening a photo with rotation or make it appear levelled. Remove and automatically replace a tripod or produce an interesting 'planet-like' effect.

Time saving tools

Reduce repetition and accelerate complex photo-editing actions with Scripts. Record a series of edits as a script to apply to any photo, anytime. Automate edits on multiple photos at once with batch processing like adding a watermark, picture frame, or simply resizing.
Impactful graphic design features
PaintShop Pro is packed with creative tools for creative people.
Layers and masks

Layers and masks are essential for advanced image editing, compositing and graphic design. Use multiple, non-destructive layers when editing images to create photo composites with ease. Create masks to hide or show parts of a layer, fade between layers, and to create special effects with precision.

Text tools

Add text to images to create interesting projects, like a meme or a picture quote. Adjust fonts, size, style, alignment, leading, and kerning with a complete set of typography tools.

Drawing, painting and fill tools

Paint with built-in brushes, or import Adobe Photoshop brushes to bring your digital designs to life. Draw with vector illustration tools, and use color palettes, gradients, patterns and picture tubes to take your designs to the next level.

Templates and Creative Content

Access a wide range of built-in templates to create collages, greeting cards, social media images, web banners, brochures, business cards and more.
Smart solutions
Explore new tools powered by artificial intelligence and machine learning to improve your photos in no time.
AI-powered tools

Intricate and time consuming edits just got so much easier with the new technology engineered into PaintShop Pro. Enlarge an image without unwanted distortion with AI Upsampling, remove artifacts and noise from your photos with one click using AI Artifact Removal or AI Denoise, and stylize your photos with artistic effects using AI Style Transfer.

Content-aware tools

Remove flaws, objects and distractions with the Object Remover or try content-aware editing tools, like SmartClone, Magic Move and Magic Fill, to automatically fill empty areas. Eliminate red-eye, blemished and unwanted lines or smooth wrinkles, whiten teeth and even out skin tones with Makeover and retouching tools.

One-click corrections and instant effects

Let One Step Photo Fix automatically apply color and sharpening corrections or use Smart Photo Fix to fine-tune settings for a perfect photo. Browse hundreds of effects, including preset filters, 3D, artistic, illumination and reflection, to add drop shadows and borders to images, or turn photos into a sketch or painting.
Everything you need to create great-looking movies with VideoStudio:
VideoStudio has expanded its remarkable combination of beginner-friendly tools, tutorials, and user interface with breakthrough creativity to make video editing truly fun!
Basics first

Edit your video with essential tools that combine your photos and videos with ease, making it simple to add polish and export as an eye-catching and engaging production.

Drag and drop

Transform your footage into a smooth and sophisticated movie by adding graphic elements, animated titles and transitions. Even turn your titles into realistic onscreen handwriting or apply animated pen effects.

Correct and enhance

Boost color and use Color Grading to quickly shift the color scheme of your entire video, apply lens correction, explore Blur Motion tools and stabilize shaky footage—surprise yourself with the results!

Apply effects

Apply premium effects, new animated AR Stickers and Face Effects, creatively blend overlays, and add morph or seamless transitions along with dynamic and 3D titles to make your video more impressive and entertaining!

Explore advanced tools

Use Video Masking to achieve cinema-grade effects, save time with facial recognition technology, leverage dynamic Split Screen Templates and multi-cam editing to reveal multiple perspectives, create GIFs, enhance panoramic footage with 360 video editing, add animation and speed effects for a dynamic, motion-packed result, and so much more.
Capture & edit video across multiple cameras
Screen Recording Software

Capture webcam video and record your screen at the same time (even in 4K! ) or record dual screens simultaneously—all with MultiCam Capture Lite. Easily record video and audio in a single click and seamlessly edit them together with multi-camera editing.

6-angle MultiCam Video Editing

Express yourself from every angle! Easily combine, sync, and edit footage from multiple cameras, select the angle you want to show as your video plays, add picture-in-picture effects, and edit further on the timeline. Combine up to 6 angles with VideoStudio Ultimate.

Dynamic Split Screen Templates

Go a step beyond and explore the Ultimate-exclusive dynamic Split Screen Template Editor to combine shots in your videos to showcase different pieces of footage at once and create various picture-in-picture effects. Jumpstart your split screen projects with ready-to-use templates, or create your own with customized motion to captivate viewers your way.
About Photo Video Editor Bundle Ultimate Coupon
How do I find Photo Video Editor Bundle Ultimate coupon code?
You can find Photo Video Editor Bundle Ultimate coupon code on our page,
just click on «Get Coupon» button.
How do I use Photo Video Editor Bundle Ultimate coupon?
To use Photo Video Editor Bundle Ultimate coupons, copy the coupon code on our page and paste it in the promo code field on the checkout page of your order.
The coupon can be used if the coupon is active.
How do I get discount on Photo Video Editor Bundle Ultimate products?
You can get discount by using a coupon code, which you can find on our page. Right now you can save up to 10% off.
How long do Photo Video Editor Bundle Ultimate offer last?
The time within each offer is active, is different. The coupons you pick up during the sales are mainly active for the sale period.
How many Photo Video Editor Bundle Ultimate coupons can I use?
You can use only one coupon code for each order.